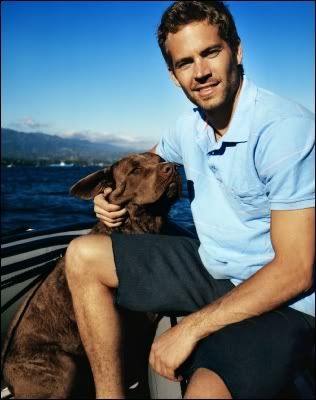 Eight Below star Paul Walker turned his Chesapeake Bay Retriever, Boone, into a star after landing the pooch a role in his movie, Into the Blue.
Walker explains, "My dog Boone travels everywhere with me and when we were casting Into The Blue, he was just sitting in the corner.
"John saw how well-mannered he was and he listened to me so well. He was against having a dog on set with a wrangler and filming on water. But my dog listens to me so well, so, sure enough, he made him my dog in the movie.
"My dog respects the ocean, but we had a run-in with a sea lion in Santa Barbara (California) not so long ago. I took my daughter and the bull sea lion can be real protective and he jumped into my boat, about 1,600 pounds of him. "I threw everyone in the cabin of the boat and the only one I couldn't get a hold of was my dog. I never saw my dog move so fast; he jumped right into the ocean and was swimming for shore!"