Admit it, you sometimes recoil when your dog tries to give you kisses. Some of you may even jump back four or five feet, I know I have and I feel bad about it when I do. Ok not that bad but I do kinda drop my head for a second or two.
I'm big on giving my dogs a good brushing twice a week now. Those photos of dogs with poor dental hygiene and rotted teeth and loose gum pockets the vet showed me, not only gave me the shivers for two days but it also made me concerned. Taking care of our dogs teeth is something we don't do enough, but we should.
If you've ever brushed a dog's teeth, or tried to, then you know it ain't easy. They're not aware you're trying to save their teeth so they want to bite the brush. They've never tasted toothpaste so they don't know what it is and either try to eat it, spit it out or worse, lick it right onto your pants leg. Those back teeth and the gum lines? Fuhgeddabadit, right?
Wipe those lines of worry away and save your forehead from future Botox. We're going to share something to help you and your dog, one canine tooth at a time.
It's a new product called Keep it Clean, a complete dental kit for dogs (and yes, even cats!). We had the opportunity to test this puppy out over the weekend (no pun intended) and it's a nifty, must-have gadget.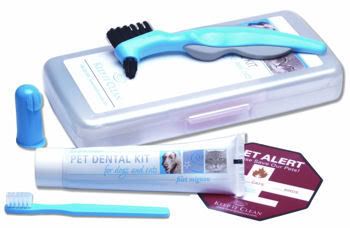 Let's start with the toothpaste, they got it right with the Filet Mignon flavor. Instead of thoughts about where the toothpaste might wind up, I wondered if I would get to keep my hand. Nice trade off.
The long handle on the double-headed brush worked perfect on molars and hard to reach places, the short brush was ideal for the front teeth and tongue while the finger brush was just what I needed for our five-month old puppy. It had everything to get the job done right and with little reason to wrestle my dogs into headlocks. Works for them, less physical exertion for me!
On one sad note, the Keep it Clean kit isn't available for purchase in the stores just yet BUT, you can try to win one by entering the Dirtiest Mouth Contest. The contest has been extended to April 30th instead of March 30th so get those mouths dirty so you can get them clean again. Read all the contest details here or you can call 866-305-2559 to order by phone.
Thanks to Keep it Clean for letting us test this out, Zeph and Zoe's teeth are sparkly clean and I think of steak every time they give me a kiss.