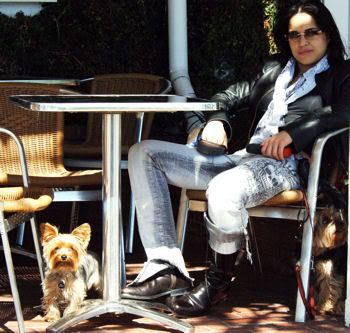 It's killing me, really killing me that I don't know if these dogs are hers or not and what their names are. That's all I have to say right now.
Actually no, there's more. I'm going to stay pretty pissed off about it until I find out. OK I'm done now.
These pics were taken on February 28th on the patio of Mauro's Cafe at the Fred Segal clothing store in West Hollywood.
Update: Leigh, who runs Michelle's official website www.michelle-rodriguez.com, just informed us the following info about the Yorkies – The dogs are her friend's (she loves to take them out for walks)….he told me the big one is Maddix (male) and the 'lil one is Dita (female). Thanks Leigh!!!