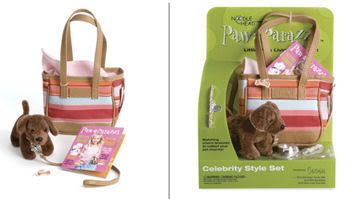 One of the best perks about this blogging gig is reviewing the cool products that come our way. Zeph and Zoe have had some fabulous samples to try and we've found some marvelous things for our dogs we might have otherwise never known about.
Last week, my four-year old daughter got a little surprise from Noodle Head Toys. They sent one of their cool PawParazzi Pets for review and she got a big kick out of it.
PawParazzi Pets are just like celebrities only they're the star and their little owner can tote them around to live their lives in the spotlight in their very own way.
My daughter played with Cocoa which was the perfect dog in her eyes because Cocoa reminded her of our chocolate Lab, Zoe. Cocoa came with it's own doggie carrier, complete with a blanket and a little opening so he could stick his head out and show the world his furry face.
Around his neck was a little "bling bling" for a collar and a matching bracelet for the new celebrity pet owner comes with the set! My daughter thought she was a hot stuff with that bracelet on and she had a blast showing everyone the little doggie dish, bone, leash and leather collar.
There are five pets in all, three dogs including Cocoa, and for you cat lovers, there are two which should have you purring.
Get your own PawParazzi Pet by finding a retailer, just enter your zip code here.