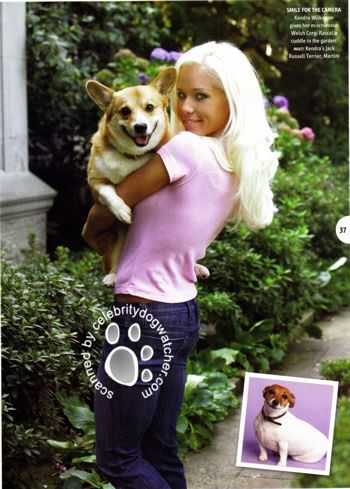 Kendra Wilkinson

Holly Madison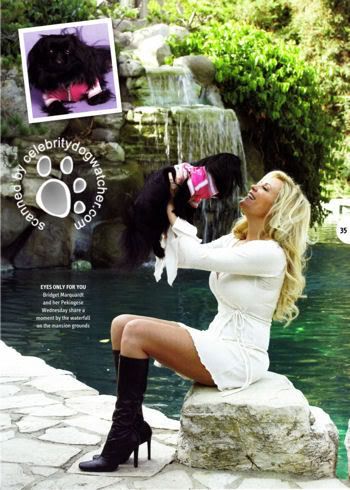 Bridget Marquardt
The stars of E! Tv's The Girls Next Door graced the cover of the January/February 2007 issue of The Hollywood Dog magazine and while I don't watch the show, seeing that they loved dogs made me want to learn more about them and their dogs in particular. Here's what I found out:
–Holly Madison has two Pomeranians. Harlow and Panda and two Chihuahua's, Duke and Duchess. That's Duchess in her lap and Duke is shown in the inset picture. When asked if she had a connection with one particular dog, she said she did have a soft spot for Duchess because she was a rescue and came from an abusive background.
–Bridget Marquardt was a cat person when she moved into the Playboy mansion but she couldn't fight the feeling for long and she eventually got her own, a little black Pekingese named Wednesday. She also owns a cat named Gizmo and said the two play games and sleep just inches away from each other.
–Kendra Wilkinson brought her two dogs with her to the Playboy Mansion – Martini, a Jack Russell Terrier and Rascal, a Welsh Corgi. She says she stays grounded through her animals and that when traveling to Europe for two weeks, she just didn't get homesick, she got dogsick!
The Hollywood Dog magazine can be found at Borders, Barnes & Noble, PetSmart, PetCo and more!